Indonesia is among many low- and middle-income countries coping with the challenge of poor-quality medicines and, with over 17,000 islands, it has a particularly complex supply chain. PQM's collaborations with manufacturers, regulatory bodies, and local partners are an important component of ensuring the quality of medicines in Indonesia. Since 2011, PQM has been helping Indonesian manufacturers improve their systems to produce quality-assured medicines, beginning with tuberculosis (TB) medicines and expanding to HIV/AIDS medicines in 2014. Since 2013, PQM has helped the Indonesian regulatory authority to detect and remove substandard and falsified medicines from the market. This work is essential to protect people from exposure to products that will not work as expected or can even cause harm and to help prevent or address medicines shortages.
Areas of Focus
Strengthen national regulatory systems
PQM contributed to Indonesia's efforts to strengthen regulations related to medicines quality assurance and ensure coordination between the Ministry of Health and regulatory authority for post-marketing surveillance. These more stringent policies will further empower the agencies to protect Indonesia's people from poor-quality medicines.
"... PQM is a great project... [I]t is a holistic program helping us to develop our capacity as a drug regulatory authority and working with industry to meet international standards. It is very important."
 – Dr. Roy Sparringa, former Chairman of BPOM
Increase capacity to detect substandard, falsified, and unapproved medical products
PQM helps strengthen the capacity of Indonesia's national quality control laboratories (NQCLs) so they can better detect poor-quality medicines. Through PQM's technical assistance, extensive training, and support toward the integration of internationally recognized practices, Indonesia's NQCLs are building their capacity to accurately and reliably test the quality of medicines.
With help from PQM's technical assistance program in Indonesia, an NQCL recently became the first Indonesian laboratory to submit an application for WHO prequalification. Once prequalified, the NQCL will help ensure the quality of medicines from both the public and private sectors, and Indonesia will be better positioned as a regional leader in medicines quality assurance.
Increase supply of quality-assured essential medicines
PQM is supporting five Indonesia-based manufacturers in their efforts to produce TB and HIV medicines using good manufacturing practices (GMPs). Stringent regulatory authorities and the WHO prequalification program require that manufacturers meet international GMP standards, so complying with these standards could help increase the supply of quality-assured medicines for these diseases. One PQM-supported manufacturer has also applied its new capabilities to the production of quality-assured maternal and child health medicines. PQM also supports local production of essential medicines in Indonesia, as it may help establish sustainable local supply of quality-assured medicines.
In 2017, an Indonesian manufacturer that receives technical assistance from PQM achieved WHO prequalification for oxytocin injection, and its amoxicillin 250mg dispersible tablet (DT) was accepted by the WHO Expert Review Panel for procurement by UNICEF. These two priority products will lead to an increased supply of quality-assured products for maternal and child health on the global market.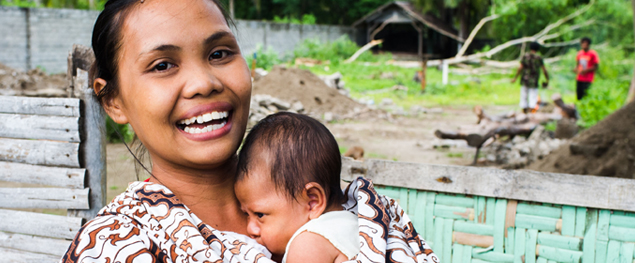 Increase evidence-based decision-making
PQM is helping Indonesia convene partners to sample and test medicines and disseminate medicines quality data in a timely manner.
In 2017, PQM convened a meeting with Indonesia's National Tuberculosis Program and representatives from the country's provincial health offices and laboratories to advance efforts to test medicines quality. Participants identified specific medicines to test, as well as warehouses throughout the country from which samples would be gathered. The data from this testing will be shared with Ministry of Health partners to inform decisions about strengthening Indonesia's medicines quality control system. These activities helped support collaborative efforts between Indonesia's Ministry of Health and regulatory authority for medicines quality sampling and testing.