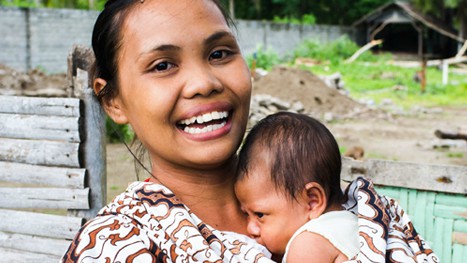 Preventable and treatable conditions cause hundreds of thousands of maternal and child (birth to age 5) deaths in low- and middle-income countries (LMICs). An abundance of poor-quality medicines hinders efforts to save lives and presents a challenge for Indonesia and many other LMICs. Increasing the availability of quality-assured medicines is essential for saving thousands of mothers' and children's lives.
Maternal deaths in Indonesia
In Indonesia, after a decade of declining maternal mortality rates (MMR) that reached a low of 228 per 100,000 live births in 2007, the rate increased by over a third in 20151.  Nearly one-third of MMR deaths (28 percent) in 2015 were attributable to postpartum hemorrhage.23 The World Health Organization (WHO) recommends oxytocin for postpartum hemorrhage, and a UN Commission stated that "all women giving birth should receive oxytocin."4  However, if the oxytocin is of poor quality, it can negatively affect treatment outcomes.
Childhood deaths in Indonesia
Childhood mortality rates in Indonesia decreased from 85 per 1,000 births in 1990 to 27 per 1,000 in 2015. Still, an estimated 147,000 Indonesian children die before their fifth birthdays each year. In 2015, approximately 25,000 children died from pneumonia.5  WHO notes that "the antibiotic of choice [for these children] is amoxicillin dispersible tablets [DT]," but around the world only one-third of children under 5 with pneumonia receive the antibiotics they need.6 
If treatments exist, why are so many people still dying?
While oxytocin and amoxicillin DT save lives, Indonesia and other LMICs often struggle to ensure the quality and readily available supply of these critical medicines.
Sometimes a medicine is simply not available, as is the case of amoxicillin DT. Production may require significant investments but yield limited financial gain for local manufacturers in LMICs. At other times, medicines that are available may be of poor quality, making them ineffective or even dangerous. A recent study found "[t]here is a high prevalence of poor-quality oxytocin samples in LMIC countries, mainly due to inadequate amounts of active ingredient."7  Medicine can be of poor quality for a number of reasons, including falsification, deficient manufacturing practices, or improper handling and storage.
Increasing the local supply of quality-assured medicines
To improve the availability of quality-assured essential medicines in LMICs, local manufacturers sometimes need support from technical experts. The Promoting the Quality of Medicines (PQM) program, funded by the U.S. Agency for International Development and implemented by USP, helps manufacturers strengthen their quality systems to comply with international manufacturing standards like those required for WHO Prequalification. This year, with PQM support, an Indonesian manufacturer achieved WHO prequalification for oxytocin and its amoxicillin 250 DT was accepted by the WHO Expert Review Panel for procurement by UNICEF. Soon, increased availability of quality-assured oxytocin and amoxicillin DT in Indonesia may save thousands of lives.
Building sustainable quality assurance systems
Complementing its support of local manufacturers, PQM works with local partners to build a stronger medicines quality assurance system in Indonesia. For instance, PQM helps develop and advance policies in support of the medicines regulatory authority (MRA) and—through technical assistance and trainings—empowers Indonesia's MRA and national quality control laboratory with locally sustainable capabilities toward assuring the quality of medicines in the country.