To assure the quality of medicines reaching the Ethiopian people, the Ethiopian Food, Medicine and Health Care Administration and Control Authority (EFMHACA) relies on test results obtained from its national quality control laboratory. This laboratory has achieved international ISO 17025:2005 accreditation, a key milestone that demonstrates a commitment to deliver accurate and reliable test results.
To maintain this accreditation and ensure the laboratory continues to produce reliable results, EFMHACA must periodically calibrate its laboratory instrumentation. This is important because even small errors in instrument readings can produce inaccurate test results for pre-market approvals or post-market detection of poor-quality medicines.
In the past, EFMHACA outsourced laboratory instrumentation calibration to international contractors because there were no local accredited providers. The cost of using such providers was extraordinarily high and put a financial drain on the laboratory's limited resources, making international outsourcing an unsustainable solution.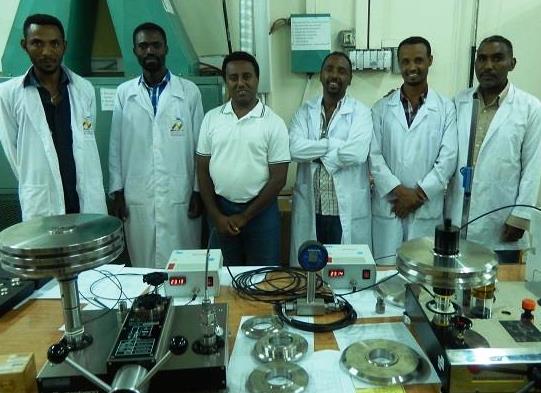 The National Metrology Institute of Ethiopia (NMIE) is responsible for national measurement standards for Ethiopia and provides calibration services in certain technical areas to support EFMHACA and local industry. Until recently, it lacked the capacity to provide the accredited calibration services for key laboratory instrumentation needed by EFMHACA. To address this need, NMIE had engaged a consultant from abroad to extend its capacity, which incurred for them the same great expense and provided just a temporary solution. NMIE needed a long-term resolution.
The Promoting the Quality of Medicines (PQM) program, funded by USAID and implemented by USP, had assisted EFMHACA in attaining ISO 17025:2005 accreditation and saw building laboratory instrument calibration capacity as a way to further strengthen Ethiopia's medicines quality assurance systems. PQM proposed a plan that would be sustainable and provide laboratory calibration services locally when needed.
"Tremendous changes happened in a short period of time due to this valuable support and they will help address current, urgent client needs."
– Mulugeta Derebew, Quality Manager & Director, Industrial Metrology Directorate at NMIE
With supplemental funding from USP, PQM provided tailored technical assistance and training to NMIE. These new capabilities expanded the Institute's scope of services to include accreditation for the calibration of pressure and temperature instrumentation. To date, this expanded capacity has decreased EFMHACA's use of international contract service providers by two-thirds and reduced annual calibration costs by 58 percent. NMIE's ability to offer these services to EFMHACA, local manufacturers, and other associated industries assures that laboratory instrumentation is properly calibrated so that potentially life-threatening quality concerns in medicines can be identified.
By providing EFMHACA the ability to address a critical need, PQM helped strengthen Ethiopia's medicines quality assurance and quality control systems in a financially sustainable manner.