In sub-Saharan Africa, cross-border trafficking of poor quality medicines is a major problem. The Promoting the Quality of Medicines (PQM) program helped Liberia control falsified and substandard medicines from streaming into the country by building customs officers capacity to test medicines at the border, thereby protecting the Liberian people from health risks.
Liberia's population of close to 5 million people is at risk from poor-quality medicines that stream unchecked across the borders. People can suffer serious health problems if they take medicines that are poor quality. Consuming falsified medicines that have limited or no effectiveness can also damage trust in the health system, and may contribute to other health concerns, such as antimicrobial resistance.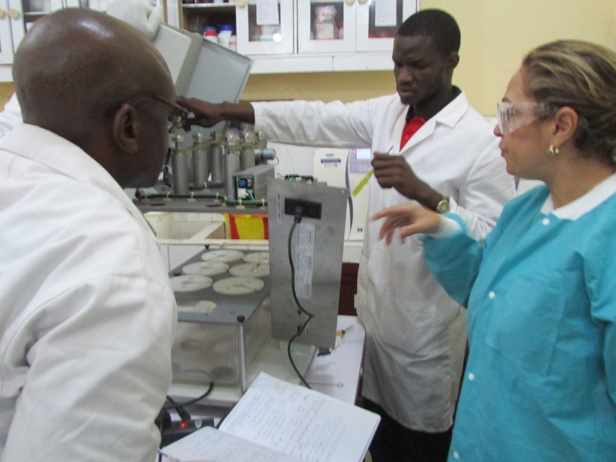 To help address this threat, the Government of Liberia with support from PQM worked to establish the Liberia Medicines Health Regulatory Authority (LMHRA) in 2010. Since LMHRA's creation, Liberia has significantly reduced the prevalence of poor-quality medicines entering and circulating in the country. However, Liberia still needed to improve its border security.
LMHRA's ability to test and detect falsified medicines entering the country was hindered due to limited financial resources and human resource capacity, frequent unavailability of laboratory supplies, and faulty equipment.
PQM is working with LMHRA to ensure that, quality-assured medicines reach the Liberian people. To achieve this result, 30 border control securities and custom officers at the Ganta–Guinea border were trained on how to visually and physically inspect medicine properly. The training used Minilab™, a transportable toolkit that tests medicines for their active pharmaceutical ingredients. Because of the training and the toolkit, border officers at the Ganta–Guinea border in Liberia can now detect and stop falsified medicines from entering the country.
PQM is working with LMHRA to ensure that only quality medicines reach the Liberian people.
Training of border officers can empower cross-border security agencies to rapidly detect and confiscate falsified and substandard medicines in the market, thereby saving lives. Through training, engagement with border authorities and manufacturers, and testing of medicines, Liberia has strengthened its regulatory capacity as well.
In the most recent round of testing, 370 public- and private-sector samples were collected from five counties across Liberia. Testing for quality against international standards yielded a 13-percent failure rate of the samples. After notifying manufacturers and distributors about the results, thousands of cartons of substandard products were removed from the market, protecting the health and safety of the Liberian people.