The Promoting the Quality of Medicines (PQM) program, funded by the U.S. Agency for International Development (USAID) and implemented by USP, is supporting efforts by the Intergovernmental Authority on Development Medicine Regulatory Harmonization (IGAD-MRH) Program to strengthen pharmacovigilance and post-marketing surveillance systems for medicines distributed in Djibouti, Eritrea, Ethiopia, Kenya, Somalia, South Sudan, Sudan, and Uganda, with specific focus on cross-border areas.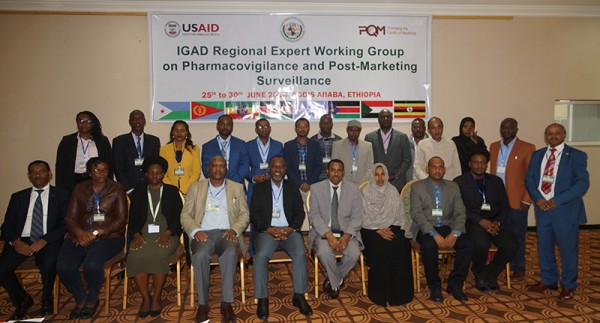 At a June 25–29, 2018, kickoff meeting in Addis Ababa, Ethiopia, IGAD-MRH took four resolute steps toward better ensuring access to quality-assured medicines in member states: (1) establishing a Regional Expert Working Group on Pharmacovigilance and Post-Marketing Surveillance; (2) developing recommendations for a regional cross-border pharmacovigilance system; (3) drafting an implementation strategy for regional post-marketing surveillance; and (4) defining a regional protocol for studying the prevalence of substandard and falsified medicines for maternal and child health, family planning, tuberculosis, and HIV and AIDS at selected cross-border sites. 
The Addis Ababa meeting was chaired by Ato Yehelu Denekew, Director General of the Ethiopian Food, Medicine, and Health Care Administration and Control Authority (EFMHACA), whose opening remarks emphasized that substandard and falsified medicines circulating in IGAD member states are "…a serious public health threat which, if not prevented and controlled, will undermine confidence in public healthcare systems and programs." 
Speaking shortly afterward, PQM Principal Program Manager, Timothy Nwogu, explained that the PQM program will help build technical capacity among member states to strengthen regional pharmacovigilance and post-marketing surveillance activities. He noted that by fostering regional harmonization on these key activities, "IGAD is moving toward work sharing and principles of mutual reliance."
In addition to the technical and financial support that USAID is providing to the IGAD-MRH Program through PQM, the New Partnership for Africa's Development (NEPAD) and the World Bank also endorsed establishment of the Regional Expert Working Group on Pharmacovigilance and Post-Marketing Surveillance and pledged continued support for the regional initiative.
For an update on PQM support to IGAD, click here.