In a ceremony held on August 9, 2018 in Abuja, Nigeria's National Institute for Pharmaceutical Research and Development (NIPRD) celebrated attaining ISO/IEC 17025 accreditation, signifying it meets rigorous international standards for testing medicines, food, cosmetics, agricultural products, and herbal products. "NIPRD has joined the Ivy League of global laboratories," pronounced NIPRD Acting Director General, Prof. Kunle Olobayo, explaining that the laboratory's quality control tests will now be accepted worldwide, thus widening international markets for key Nigerian goods. But, he's definite in emphasizing that the greatest gains will be at home. "Through more efficient pharmaceutical testing, Nigeria is improving people's health throughout the country by increasing their access to quality-assured medicines," Prof. Olobayo stated.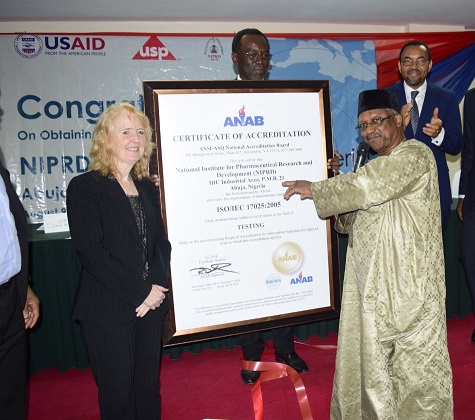 NIPRD is an essential part of Nigeria's health system.  Established as a parastatal under the Federal Ministry of Science and Technology in 1987 and transferred to the Federal Ministry of Health in 2001, NIPRD's primary objective is developing drugs, biological products, and pharmaceutical raw materials. This mandate also includes conducting quality-assurance tests as part of its research mandate for locally-manufactured medicines, as well as developing specifications for the production of such commodities. 
NIPRD's decision to seek ISO/IEC 17025 accreditation—and to make the needed improvements to staff capacity and laboratory infrastructure that would make accreditation possible—was motivated in large part by the international donor community.  Organizations like the U.S. Agency for International Development (USAID) have been encouraging pharmaceutical testing and calibration laboratories in Nigeria to seek accreditation primarily because significant cost savings will be garnered if quality testing of donated health products can remain in-country. The accreditation itself is based on laboratory standards developed jointly by the International Organization for Standardization (ISO) and the International Electrotechnical Commission (IEC), with certification carried out by the U.S.-based ANSI-ASQ National Accreditation Board.
The process of reaching the point where NIPRD could apply for ISO/IEC 17025 accreditation began in 2016 when the Promoting the Quality of Medicines (PQM) program, which is funded by USAID and implemented by the U.S. Pharmacopeia, conducted an assessment to identify gaps between the targeted standards and the facility's quality management system and technical capacities.  Informed by that assessment, the PQM program then provided training to the NIPRD staff on pharmaceutical testing.  The program also supported NIPRD in the procurement of needed equipment and supplies, and even funded the accreditation process itself.
NIPRD's ISO/IEC 17025 accreditation, which was officially granted on June 15 of this year, explicitly applies to the capacity to conduct six (6) procedures that comprise quality-assurance testing: high-performance liquid chromatography (HPLC), which is used to separate, identify, and quantify each component in a product; pH testing, which measures acidity or alkalinity; loss on drying, which determines moisture content; UV-visible spectrophotometry, which ascertains product stability; dissolution testing, which detects physical changes in active pharmaceutical ingredients; and uniformity of dosage unit testing, which ensures the consistency of a medicine's contents in dosage forms like tablets and capsules.
Dr. Chimezie Anyakora, Nigeria Chief of Party for the PQM program, notes that NIPRD is responsible for training other laboratories and could now support peer institutions in Nigeria desiring to attain ISO/IEC 17025 accreditation. Still, they must also continue to maintain their own accreditation, which is subject to a recertification assessment every two years. "One of the most important next steps for NIPRD in this ongoing process is developing a sustainability plan," Anyakora said as he confirmed PQM's continued support and technical assistance.